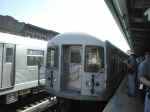 BMT/IND
The BMT division is the successor to the old Brooklyn Rapid Transit or BRT. As the name implies Brooklyn was its main focus. The distinction between the BMT and IND is a bit hard but basically it covers the Nassau and Broadway Lines in Manhattan, the 4th Ave subway, Sea Beach, West End, Brighton, Myrtle, Broadway/Jamaica and Canarsie Lines in Brooklyn/Queens.
The IND Division was originally conceived as replacing the many elevated lines in New York with high speed subways. Many of the lines did accomplish this, names the 8th, 6th Aves and Fulton St Lines. The Queens Blvd Line broke new but needed territory for the subway. The system was built mostly in the 1930's so it is the "new" kid on the block compared to the IRT and BMT.
The IND was built to BMT standards thus trains could be intermixed unlike with the smaller IRT. The IND was also built with huge underground flying junctions to minimize cross traffic.
The routings below are as of 3/2017
Route
Common
Name
Northern
Term
Southern
Term
8th Ave Exp
207th St, Inwood, Manhattan
Lefferts Blvd or Far Rockaway or Rockaway Park Queens
Central Park
West Local/6th Ave Exp/Brighton Exp
Bedford Park Blvd, Bronx or 145th St, Manhattan
Brighton Beach,Brooklyn
8th Ave Local
168th St, Wash. Heights, Manhattan
Euclid Ave, Brooklyn
6th Ave Exp/West End Local
205th St, Norwood, The Bronx
Coney Island, Brooklyn
8th Ave Local
Jamaica Center/Parson-Archer Queens
World Trade Center, Manhattan
6th Ave Local
179th St, Jamaica, Queens
Coney Island, Brooklyn
Bklyn-Queens Crosstown
Court Square, LIC, Queens
Church Ave, Brooklyn
/
Nassau St Express
Jamaica Center/Parsons-Archer, Queens
Broad St, Manhattan
14th St-Canarsie Local
8th Ave, Manhattan
Canarsie/Rockaway Pkwy, Brooklyn
Queens Blvd/6th Ave/Myrtle Ave Local
71st/Continental Aves, Queens
Middle Village/Metro Ave, Queens
Broadway Local
Astoria-Ditmars Blvd, Queens
Coney Island, Brooklyn
Broadway Express/ Brighton Local
96th St/2nd Ave, Manhattan
Coney Island, Brooklyn
Broadway Local
71st/Continental Aves, Queens
Bay Ridge/95th St, brooklyn
Broadway Local
Astoria/Ditmats Ave, Queens
Whitehall Street, Manhattan
Franklin Shuttle
Franklin Ave, Brooklyn
Prospect Park, Brooklyn
Rockaway Shuttle
Broad Channel, Queens
Rockaway Park/116th St, Queens
Lines now discontinued (since 2006)
Grand St Shuttle
W 4th St, Manhattan
Grand St, Manhattan
Nassau St Local
Metro Ave, Queens
Chambers St or Bay Pkwy
6th Ave Local
71st/Continental Aves, Queens
2nd Ave, Manhattan
Rockaway Shuttle
Beach 90th, Queens
Far Rockaway, Queens