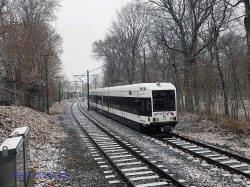 Newark Light Rail
Newark is New Jersey's largest city, and is the 3rd oldest city in the US. At one time it was the heart of NJ. One of those "hearts" was with electric railways. Newark had streetcars and interurbans lines heading out in all directions. The Four Corners of Market & Broad Streets was considered the busiest intersection in the US. During its peak there were over 500 trolleys during peak hour crossed this location. The only line left is the City Subway. At one time many streetcar lines served the subway. Now only the subway route itself remains. Although a new Branch opened in 2006 linking the subway Penn Station with a surface line to Broad St. station on the Morris & Essex lines.
EWR Monorail
Newark is also home to a major NY regional airport, Newark Int'l or EWR. It is a Continental Airlines Hub. A monorail system links all 3 terminals with the rental car and long term parking lots. It also serves Amtrak's NE Corridor.
Newark is also served by NJ Transit Commuter trains and PATH trains to New York City.
Enjoy the Photos!