Facts and Figures

Operator
NJ Transit
System Type
Light Rail
Year Opened
1935
# of Lines
2
# of Cars
Mileage
6 miles
Gauge
Std
Stations
17
Power
Overhead
Fare Media
POP
Website
NJ Transit
Data Date
2007
1st Visit
3/1997
Last Visit
1/2022
% Rode
100%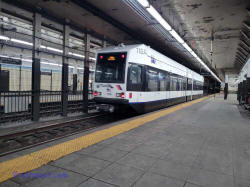 Newark
The PCC's ended their service on 8/24/01on the City Subway. On 8/27/01 the new Light Rail low floor cars took over operation. Luckily I was there to witness the change over.
The Newark system has seen other changes as well. The loop at Franklin Ave has been removed. Franklin Ave. is now called Branch Brook Park. The line itself has been extended north one mile with 2 new stations. This extension also leads to the new maintenance facility. This facility replaces the shops for the PCC's at Penn Station. There is another extension that is opened that links Newark Penn Station with Newark Broad St station along the riverfront. Weekdays the two lines are operated separately with transfers at the outbound platforms at Newark Penn Station. Evenings, and weekends there the lines are interlinked. NJT is now dropping the "City Subway" name in favor of Newark Light Rail for the entire network.
Click on the map below, or the the alphabetical listing below the map.