Facts and Figures

Operator
MTA-Subways
System Type
Metro
Year Opened
1904
# of Lines
25
# of Cars
5800
Mileage
230 miles
Gauge
Std
Stations
468
Power
3rd Rail
Fare Media
Farecards/ Tokens
Website
New York City Transit
Data Date
2013
1st Visit
1967
Last Visit
10/2013
% Rode
100%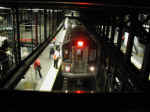 NYC Subway
The Subway System of NY is the greatest system in the world. Where else can you find large amounts of 4 track mainlines with express and local underground. Today the subway is divided into two operating divisions.
Division A is made up of the numbered lines 1-9 plus the Times Square shuttle. It is better known as the IRT, the original line opening in 1904. The cars and tunnels are smaller the Division B, but the IRT trains seem to move more people and express trains seem much faster.
Division B is made up of the lettered lines A-Z plus the Franklin Shuttle. This division is made up of the former BMT (Brooklyn- Manhattan Transit) and IND (Independent). The BMT lines go back to the Brooklyn Rapid Transit days, portions of it lines pre date 1900. The IND was built and operated by the City starting in the 1930's.
I have divided the NY Subway sections. Please choose the section of interest to you: