Facts and Figures

Operator
Port Authority
System Type
Light Rail
Year Opened
1984*
# of Lines
2**
# of Cars
Mileage
26.2 miles
Stations
53
Gauge
5'-2.5"
Power
Overhead
Fare Media
Farecards
Website
Data Date
2017
1st Visit
3/2016
Last Visit
3/2016
% Rode
100%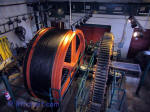 Funiculars
Pittsburgh is a city of hills. At one time there were many Funiculars, or Inclines around the area. All were designed to move peopel or freight from the tops of the hills to the river valley.
Today one 2 remain. They serve as toruist drawer, but also provide a vital transit link btween the residents of MT Washington and bus/train links to Pittsburgh on the lower level.
Both are owned by the Port Authority. However one is operated by a non-profit group dedicated to preserving the incline.
Please choose your incline: