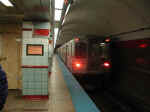 State St Subway
The Red Line is one of the busiest lines in the CTA system. To the north it starts at Howard running in the middle of a 4-track right-of-way. It joins the brown line at Belmont. South of the Armitage Brown Line station the Red Line dives underground into Chicago's first subway, the State Street Subway. After going under the loop, the red line raises above ground into the median of the busy Dan Ryan Expwy, ending at 95th.
Prior to the major re-routing in the early 1990's, the Dan Ryan portion of the route was through-routed with the Lake St 'L' via the Loop. The Howard train were through-routed with the South Side Jackson Park/Ashland trains via the State St. Subway.
Click on any photo to enlarge!