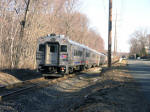 Pascack Valley
Up until 2007, the Pascack Valley Line, or PVL, was a rush hour peak direction only line. It was originally part of the NY&NJ Railroad. The line current runs from Hoboken to Spring Valley, NY. There are 3 NY stations owned by Metro-North, NJ Transit however provides the service.
In 2007 this quiet line became a busy line. Bi-directional operation with mid-day and weekend service commenced. This is all possible the building of several passing sidings. As with a stop at Secaucus Junction, there is direct connection to NJ Transit NE Corridor trains to NY and Trenton. This is a very nice line with small towns centered around its train stations. It is also the first NJT line I ever rode when I was a young man to visit my relatives in Pearl River, although at that time the line was operated by Conrail on behalf of Transport of NJ.
Click on any photo to enlarge.