Facts and Figures

Operator
RTA
System Type
Metro
Year Opened
1955
# of Lines
1
# of Cars
60
Mileage
30.7 km
Gauge
Std
Stations
18
Power
Overhead
Fare Media
Cash/Cards
Website
Data Date
1996
1st Visit
3/2007
Last Visit
3/2007
% Rode
50%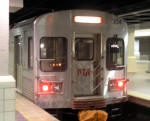 Cleveland
The Red Line rapid is built to heavy rail standards with high level platforms, but uses overhead current collection. The line opened in the 1950's mostly along railroad rights-of-way. In the late 1960's this line was the first to link a city's airport with its downtown which it continues to do today.
The current cars are from Kinki-Sharyo. Trains are typically one or two car lengths, but 4 are possible. This line could handle so much more traffic then is currently serves. But it is a great way to go from the airport to the city!
Click on any image to enlarge.