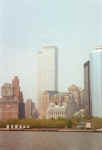 This section of Ktransit is a tribute to the families and heroes of the tragedy that befell New York City on September 11th 2001. I may live in Oregon, but I was born raised in NYC, later in the nearby town of Nyack, NY. I will always consider myself a New Yorker, specifically a Brooklynite.
Over the years, whenever I visit New York City I would usually stop at the World Trade Center. Most of the time I was there to ride the PATH trains to/from NJ. I liked the newspaper stands in the shopping arcade, magazines and newspapers from all over. I mostly enjoyed people watching. I loved getting there by 11:15 am on weekdays. At that time he shopping area was relatively empty.
By 11:30 business would pick up. Between 11:45 and 12:15 the place would be packed with people searching for a place to eat lunch.
A great memory from the WTC is that my third and first kiss date with my wife was to the top of the World Trade Center back in 1987.
I was at the WTC just 2 weeks and one day before the attack. I was on vacation visiting relatives and doing railfanning in the area. I did get some photos of the skyline from NJ before I left. I only regret that I did not go to the top that day. The following pages are photos I have taken over the years, before and after 9/11/2001 of the WTC....
We hope you will enjoy these photos, click any to enlarge.

Number of visitors since 1/2002