Portland MAX
The Rose City is one of the west coast success stories. The MAX Light Rail line continues to gain Ridership. The eastside line opened 1986, the Westside in 1998 both collectively is now known as the Blue Line. September 2001, the Red Line opened to Portland Int'l Airport. In 2004 the MAX Yellow line opened along Interstate Ave. In 2009 the new Green Line opened. Construction is currently in progress for the Orange Line to Milwaukie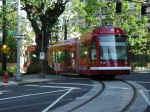 Portland Streetcar
Portland is the first city in the US to bring back the traditional streetcar using more modern equipment. The Portland Streetcar project opened in 2001 linking trendy NW Portland & the redeveloped Pearl District with downtown and PSU. In 2005 it was extended to Riverplace, then 2006 to the South Waterfront district and in 2012 the new east side loop opened. It utilizes smaller low-floor cars then MAX.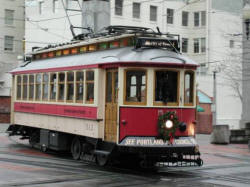 Vintage Trolley
Late 2006 saw the opening of the overhead Tram linking the South Waterfront district with OHSU on Marquam hill. Another transit project for Portland is the Washington County Commuter Rail, named WES linking Wilsonville and Beaverton that opened in February 2009.
To top it off, Portland has 2 Heritage Trolley lines. The first is the Vintage Trolley. It uses newly built replicas of the former Brill Council Crest Cars. It operates on the light rail line between Lloyd Center and 10th Ave. The other line is the Willamette Shore Trolley. It uses authentic antique streetcars. The line runs along the Willamette River between Lake Oswego and Portland. It is operated by the Oregon Electric Railway Historical Society. They also operate a museum at Brooks, Oregon.
Choose which Portland Transit line you would like to browse.