Facts and Figures

Operator
Vintage Trolley Inc.
System Type
Heritage Trolley
Year Opened
# of Lines
2
# of Cars
4
Mileage
Gauge
Standard
Stations
Power
Overhead
Fare Media
Free
Website
Data Date
1st Visit
1992
Last Visit
9/2010
% Rode
100%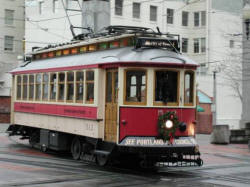 Vintage Trolley
The Portland Vintage Trolley operation has changed over the years. Originally it operated on the MAX light rail tracks between 10th Ave on the west to Lloyd Center on the east.
Later the cars also operated on the Portland Streetcar between the Pearl District and PSU. But soon this service was suspended
Once the Green/Yellow Lines opened on the Transit Mall, the vintage cars were moved to loop around the transit mall only, no longer serving the Lloyd district. In 2011 it only ran on selected Sundays through the year. By 2014 it stopped running. 2 cars were sent to St. Louis and 2 cars were sent to the Willamette Shore Trolley
The 4 replica trolleys are based on Portland Council Crest Brill cars. They were built by GOMACO of Iowa. They are remarkably similar with the exception of the PCC style trucks instead of Brill and the bow pantograph instead of a trolley pole. The original Council Crest cars can be seen at the Oregon Electric Railway Museum.