Facts and Figures

Operator
Seattle Metro
System Type
Hybrid Bus/Light rail
Year Opened
1990/2009
# of Lines
# of Cars
Mileage
Stations
5 in tunnel
Power
Overhead
Website
Metro
Data Date
1st Visit
1992
Last Visit
11/2002
% Rode
100% Tunnel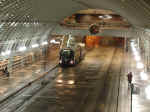 Bus Tunnel
NOTE: This page is no longer actively updated, the tunnel stations are now part of Seattle Light Rail pages.
Seattle has a unique transit tunnel subway under downtown. It originally was designed for hybrid Trolley Buses. The buses run on overhead wires through the tunnel. Outside of the tunnel the switch to diesel power to run on the streets and highways. Meanwhile streets of Seattle have a mix of true trolley bus routes and traditional bus routes.
As built the tunnel had tracks for future light rail conversion. However the track was not adequate. The tunnel was closed to allow conversion. When it re-opened in 2009 the trolley bus wires were gone, light rail wire went up. Busses still use the tunnel with trains. However the busses used fuel cell technology so as not to cause hazards underground with diesel fuels.