Facts and Figures

Operator
VVO
System Type
Steam Railway
Year Opened
1883
# of Lines
1
# of Cars
Mileage
26.3 km
Gauge
750mm
Stations
13
Power
Steam
Fare Media
tickets
Website
Data Date
2012
1st Visit
6/2012
Last Visit
6/2012
% Rode
60%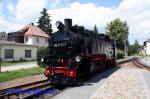 Dresden
This is a narrow gauge steam line on the fringe of Dresden.
This line was heavily damaged by a major flood in 2002 (as was most of Saxony). The section between Freitel to Dippoldiswalde was reopened in 2008. The rest of the line remains closed waiting for budgets to rebuilding. The cost of the first section rebuilt is under investigation due to enormous cost overruns.
The line is considered the oldest narrow gauge steam still in public operation in Germany.
Chose the station/area of interest