Facts and Figures

Operator
City of Seattle
System Type
Streetcar
Year Opened
2007
# of Lines
1
# of Cars
3
Mileage
2.6 miles (RT)
Stations
11
Gauge
Standard
Power
Overhead
Fare Media
Cash
Website

Streetcar

Data Date
2008
1st Visit
12/2007
Last Visit
12/2021
% Rode
100%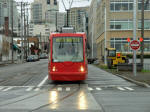 The streetcar
This modern streetcar line opened in December of 2007. The line runs from Westlake in Downtown, up Westlake Ave to Lake Union, ending at Fairview.
The line uses 3 Inkeon Trio cars similar to Portland's Streetcar. The line runs point-to-point with the only single track at Westlake hub.
The line got a nickname from neighbors, they call it the South Lake Union Trolley, or SLUT for short. This is because many feel the city built this line to help multi-millionaire Paul Allen re-develop the area around Lake Union. A small hole in the wall coffee shop called Kapow Coffee (no longer in business) extended the idea with t-shirts.
Choose your destination