Facts and Figures

Operator
City of Seattle
System Type
Streetcar
Year Opened
2016
# of Lines
1
# of Cars
Mileage
2.5 miles
Stations
10
Gauge
Standard
Power
Overhead
Fare Media
POP
Website

Streetcar

Data Date
2008
1st Visit
6/2016
Last Visit
12/2021
% Rode
100%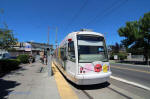 The streetcar
This is the newer streetcar line in Seattle opening in 2016. It link the old town area, King Street Station, the International District, First Hill and Capitol Hill districts of Seattle.
It uses Inkeon trams, that on the outside look similar to the cars on the South Lake Union line. However, the First Hill cars have off-wire capability. Most of the line heading down from Capitol Hill to the International District runs on battery power. Up to Capitol Hill cars run under wire. The reason was to reduce the amount of complicated overhead due to the Trolley Bus wires. Although there is still a complicated mess in some areas.
There are plans to extend the line north from the Denny terminus. There is also a plan to extend the line from the downtown end to eventually link up with the South Lake Union line.
Choose your destination