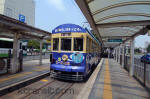 Toyohashi, Japan
I had a Sunday available and had a JR pass staying outside of the Tokyo area. So I took local trains to Shin-Yokohama, then boarded the Shinkansen. I stopped in Toyohashi on my way to Nagoya. I stopped specifically to see this small tram system.
It is a simple town tram line starting at the train station, heading thru the commercial district into the more residential area. The section thru "downtown" is very nice, but as the tram headed further away the Right-of-Way is not was well maintained. The tram line future is not very solid.
However, they do have unique idea for special trams. During the summer they have the "Beer Tram" and other times they have the "Ramen Tram". Both are special trams that are not for local passenger. Both start at the train station and then return.
A must stop if you are in the area!
Choose your location: