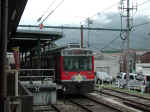 Hakone
Hakone National Park is a beautiful area with view of Mt. Fuji. It is an easy day trip from Tokyo, although overnight is recommended to really see the sites. The unique think about Hakone is how to get there. It is highly recommended to take the Hakone Circle tour. This consists of:
From Tokyo take the Odakyu Line from Shinjuku to Hakone Yumoto, or
For JR Railpass holders, From Tokyo take the Tokaido Shinkansen Kodama service to Odawara, then take Odakyu to Hakone Yumoto, or if running, take the Hakone Tozen to Gora
From Hakone Yumoto take the switch-back tram line, Hakone Tozen to Gora.
At Gora take the Incline railway to transfer to the Hakone Ropeway
From the Ropeway board a "pirate" ship to Hakone-moto, or Hakone Machi.
From their reverse course, or take a bus ride back.
I have the rail/ropeway represented: