Facts and Figures

Operator
System Type
Monorail
Year Opened
1962
# of Lines
1
# of Cars
2
Mileage
~ 1 mile
Stations
2
Gauge
N/A
Power
Guideway
Fare Media
Tickets
Website
Data Date
2002
1st Visit
1992
Last Visit
4/2011
% Rode
100%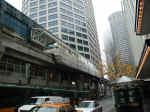 Monorail
The Seattle monorail was built for the world Expo in 1962. It was a means of connecting downtown Seattle at Westlake with the hub of the Expo at Seattle Center. Seattle Center is best known for the Space Needle.
The Monorail has two trains that ride on separate beams with no cross-overs. The only change to the monorail since its opening is at Westlake. The original terminal was torn down to make way for Westlake Center Mall, the Monorail station is now attached to the mall on a single side platform with bridges to connect to both beams (only one train cane be at Westlake at any given time.
There have been problems with the monorail in recent years, from a electrical fire to both trains sideswiping at Westlake. The system needs an overhaul. Let's hope that the system continues.