Facts and Figures

Operator
LTD
System Type
BRT
Year Opened
2007
# of Lines
2
# of Cars
Mileage
11.8 miles
Stations
25
Gauge
N/A
Power
Diesel bus
Fare Media
Tickets
Website
Data Date
2011
1st Visit
2008
Last Visit
2011
% Rode
0%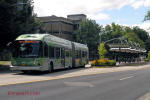 Eugene Transit
Eugene regional transit, Lane Transit District, looked at ways to improve transit in the Emerald City. Light Rail was considered, but due to Eugene-Springfield's size and costs, Bus Rapid Transit, dubbed EmX was chosen.
The initial line, now called the Green Line runs from downtown Springfield to downtown Eugene, skirting the edge of the UofO campus. It is a predominately a single lane line with passing sidings and Light rail like stations.
This proved successful, so a second line was built, called the Gateway Line linking Springfield (and the Green Line) with the Gateway district to the north. LTD it looking for more lines to the west.
The busses are special branded busses with doors on both side as some stations are center island, and some are curbside.
Click any image to enlarge