Facts and Figures

Operator
SMART
System Type
Commuter
Year Opened
2017
# of Lines
1
# of Cars
14
Mileage
43
Gauge
standard
Stations
10
Power
Diseal
Fare Media
Clipper Card
Data Date
12/2018
1st Visit
9/2017
Last Visit
9/2018
% Rode
100%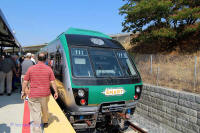 SMART
SMART stands for Sonoma-Marin Area Rail Transit. This is a brand new commuter line in the north SF Bay area serving Marin and Sonoma Counties. The line is on rebuilt North Western Pacific trackage. The NWP at one time did run commuter trains to SF ferries, including electrified trains. Todays train are DMUs.
The line currently runs from San Rafeal to Sonoma County Airport. There is an extension under construction to Larkspur for a better connection to the ferry to SF. There are also plans to extend the line north to Cloverdale.
Personally this is a great line as an alternative to crowded Hwy-101. The line goes thru towns frams and rural areas. The trains are typically very buys showing this is a transit starved areas. The trains are very nice to ride. The snack bar is a bonus!
Click on any image to enlarge!