Facts and Figures

Operator
BART
System Type
Airport PM
Year Opened
2014
# of Lines
1
# of Cars
4 trains
Mileage
3.2
Gauge
N/A
Stations
2
Power

C

able

Fare Media

C

lipper

Data Date

2

014

1st Visit
12/2014
Last Visit
12/2014
% Rode
100%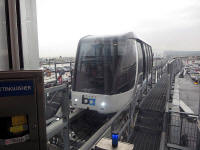 People Mover
The Coliseum-Oakland International Airport line is a cable ahuled guideway train. It links BART's Coliseum station with Oakland Airport.
This cable system has 4 cables for the 2 trackways, with a stop in the middle for trains to swap cables (but currently not a passenger stop).
There is a fare charged, and is intergrated with BART fares.
Click on any image to enlarge!