Facts and Figures

Operator
DTW
System Type
People Mover
Year Opened
2002
# of Lines
1
# of Cars
2
Mileage
3600 ft
Gauge
N/A
Stations
3
Power
Cable
Fare Media
None
Website
Data Date
2002
1st Visit
4/02
Last Visit
7/02
% Rode
100%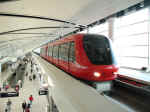 Airport "Tram"
Detroit now has 2 people movers, one downtown, the other at the new airport terminal I have only been to the airport. Here is trivia:
Two trains, each carrys 200 passengers. It runs the full length, 3,600 feet, of Concourse A, with a stop at the Central Terminal and a stop at each end. It can handle 4,000 passengers per hour, 30 second dwell at stops, 1 minute travel time between stops, 2 ½ minutes end to end. It functions as horizontal elevator with cables, Travels on air cushion, very quiet
As far as the city of Detroit, a modern Streetcar that runs along Woodward Ave.
Click on any image to enlarge