Europe > United Kingdom
Facts and Figures

Operator
Pre-metro operations
System Type
Ligth Rail?
Year Opened
# of Lines
1
# of Cars
2
Mileage
0.8 miles
Stations
2
Gauge
standard
Power
flywheel
Fare Media
tickets
Website
Data Date
2019
1st Visit
7/2018
Last Visit
7/2018
% Rode
100%
Stourbridge Town Shuttle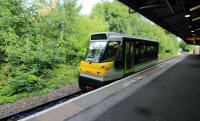 Shuttle
The stourbrige branch was built to connect Stourbridge town center with mainline trains at Stourbridge Junction. It had used mainline train equipment for this purpose. In 2009 the line switched to the small and innovated Parry People Mover cars. These cars use Flywheel energy storage to propel the car.
With the Parry cars, more frequent service was introduced. I found the staff on the car very friendly. The ride quality on these small cars it not unlike a "toonerville trolley", a bit bouncy. But it is a short journey.
I also liked it due to a link I have with Stourbridge from my childhood. We woudl go to the Poconos, and in Honesdale, PA they had a replica locomotive called the Stourbridge Lion. The original "lion" was built for the Delaware and Hudson Canal Company by a company based in Stourbridge, UK. It was one of the earliest steam locomotive to operate in North America.
Click on any image to enlarge