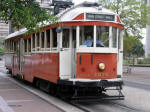 Memphis
Memphis is famous for many things. Probably the best is Graceland, the home of Elvis Presley. However Memphis operates a trolley system downtown.
The Trolley system consists of 3 lines. 2 serve as downtown circulators, the third line is a pre-cursor to light rail.
Memphis also has a Monorail that links downtown with Mudd Island.
NOTE: The system is currently shutdown after 2 trolley fires. It is hoped the trolleys will return soon.