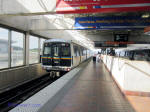 MARTA
MARTA runs this city's transit system. It consists of a bus and heavy rail system. MARTA is basically a two line system, North-South and East-West, with a few branches off of the mainlines. It provides service to the large Atlanta-Hartsfield Int'l Airport.
MARTA proved its weight in gold (pun intended) during the 1996 Summer Olympics. Without it, the Peachtree city would have been in gridlock! MARTA is typical of a 1980's style US metro system. The system is above ground along side freeways, or private right-of-way. Only the downtown portion is underground. Atlanta no longer uses Tokens, they have switched to the Breeze card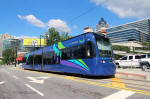 In 2015 Atlanta joined the Streetcar Club, opening a downtown circulaotr streetcar using modern streetcars.