Facts and Figures

Operator
ATI
System Type
Metro
Year Opened
2004
# of Lines
1
# of Cars
Mileage
10.7 miles
Gauge
Std
Stations
16
Power
3rd Rail
Fare Media
Farecards
Website
Data Date
2006
1st Visit
3/2006
Last Visit
3/2020
% Rode
100%
Tren Urbano
The City of San Juan now boasts one of the world's newest metro systems, and the only metro in the Caribbean. The system is called Tren Urbano (or Urban Train). The current system consists of one line, but branches and extensions are planned The line goes through many sections of the city and suburbs. It really needs to be extended into Old San Juan with its busy cruise ship port. The system is fast and clean, but it is also much more expensive then the parallel bus lines.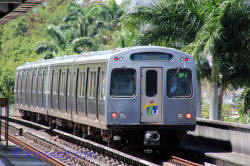 I rode a short portion of the line during a cruise ship layover in 2006. I was able to return in early 2020, agains as a cruise stopover, this time I rode the entire line. There are two underground stations on the system that remind me very much of Los Angeles's Red Line stations, very light and airy.
The list below are in station order starting at Sagrado Corazon, not all station have photos.