In the year 1999 was my first trip to Germany, actually it was also my first trip to Europe!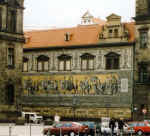 Dresden: Old mural on a building, prior to WWII, many building around Dresden also had the murals.
This first trip was to Dresden. Dresden before WWII was the art center of Germany. The Allies virtually leveled Dresden in a bombing campaign. After the war Dresden fell behind the iron curtain of East Germany. As such many "communist" style buildings were built, while older building fell into disrepair.
Enter the 1990's. The Berlin Wall fell and the two Germany's became one again. Dresden has been re-building itself every since. One of the biggest investments is the move-in of the high-tech industry. AMD or Advanced Micro Devices main wafer fab is located here.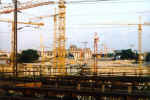 Berlin: Everywhere the eye could see, construction cranes
What I liked about Dresden is that its Strassenbahn, or Streetcar system is still largely in-tact and has recently received newer trams. I really must return to this fine city.
Guard tower at the old Checkpoint Charlie
At the end of my brief trip to Dresden I went by train up to Berlin. Berlin in 1999 was very busy building a unified city, as well as preparing the city to become the nation's capitol city again. I had never seen so many construction cranes in all my life.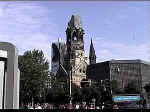 Bombed out church in Berlin as a memorial to WWII.
The Holocaust museum is a must visit to Berlin. It is amazing how humans can treat other humans based on religion, nationality and color. Another must visit is the nefarious Checkpoint Charlie. This was the only border crossing through the Berlin Wall in the city center. Many people tried to escape East Berlin via this passage, most failed.
Berlin is now a very vibrant city and a must stop in Europe.
My next trips to Germany involved Hamburg, Hannover and the Rhine-Ruhr Area. They will be added to this page at a later date.
| Back to Top | European Trips |