After the passing of Flame, there was a quietness and emptiness in our house that was deafening. After 4 months we decided we were ready for a new dog. One evening Cyn talked about getting another dog. That night, Mark was on a conference call for work at midnight. During the call, Mark went onto Craig's List. This was only the second Mark has ever visited this on-line marketplace. He found a Golden Retriever being offered for free to a good home. He sent an e-mail asking for more information.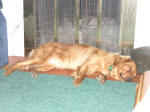 The next morning Cyn, un-knowing of the evening e-mail, received a phone call asking if we would like to see Cinnamon that evening. Needless to say Cyn was dumbfounded. She called Mark, Mark drove to take a look at this small, rather crazy golden retriever. She was not quite 2 years old. She was in a family with 3 kids, with little time to train the dog. That weekend Mark & Cyn went back to visit the dog. We decided that we would take her.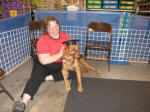 Since then she has made a great transition to our home. We have gotten her through 2 sets of obedience classes to date. Cyn calls her Cinnamon Pie, Mark calls her Cinna-monster. She has calmed down considerably since taking her in. She is a wonderful dog to have, and would not trade her in for anything in the world!

(Click on any image to enlarge)