Facts and Figures

Operator
MATA
System Type
Vintage streetcar
Year Opened
1989
# of Lines
1
# of Cars
Mileage
4.6 miles
Gauge
Standard
Stations
40
Power
Overhead
Fare Media
Free
Website
Data Date
2015
1st Visit
Last Visit
9/2015
% Rode
100%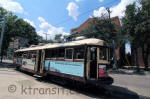 MATA
This is a great tourist line operating on original Dallas Streetcar right of way. It connects the Arts District with the "Uptown" restaurant district. The line was recently extended northward to the City Place Light Rail station. As of 2015, the line is a full loop line between downtown and Uptown.
MATA runs several classic Streetcars
Car 122 "Rosie" is a single truck Brill car from Oporto, Portugal, she was built around 1909

Car 186 "Green Dragon" is a Dallas home car from 1913, built by St. Louis Car Company

Car 369 " Matilda" is from Melbourne Australia built in 1925

Car 636 "Petunia" is a Dallas Birney car built in 1920.

Car 754 "Betty" is a Dallas car built in 1926 by American Car Company.

Car 7169 "Emma" was originally from Johnstown, PA, in 1949. In 1960 it was sent to Brussels, where is was re-bodied to meet the narrower confines of Brussels fleet.
Below are featured stops of the McKinney line, choose your destination