Facts and Figures

Operator
DCTA
System Type
Commuter
Year Opened
2011
# of Lines
1
# of Cars
11
Mileage
21 miles
Gauge
Standard
Stations
6
Power
Diesel
Fare Media
Tickets
Website
Data Date
2015
1st Visit
9/2015
Last Visit
9/2015
% Rode
100%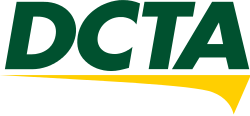 Dallas
The A-Train is a commuter rail line operating between the city of Denton and the Trinity Mills DART station.
The A-train started out using RDC cars from Trinity Railway Express when it first opened in 2011. Today the line uses DMUs from Stadler of Switerland.
The line starts just a short walk from downtown Denton, and is located a a bus transit center. The line then heads south calling at 5 more stations until Trinity Mills. It shares a platform at Trinity Mills with southbound DART Green line trains for convenent transfer between trains.
Choose your destination: