Facts and Figures

Operator
System Type
Personal transit
Year Opened
1989
# of Lines
2
# of Cars
Mileage
1.4 miles
Gauge
N/A
Stations
4
Power
side rails
Fare Media
N/A
Website
Data Date
2016
1st Visit
9/2015
Last Visit
9/2015
% Rode
80%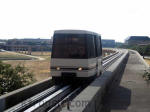 DART l
The APT is a unique elevated guideway system linking various buildings in the Las Colinas planned development community.
When it first opened a $0.50 fare was charged. In 1993 they system was shut down due to costs and lack of the development of the area that was anticipated.
The system re-opened in 1996 with no fares being charged. With the opening of the DART Las Colinas Urban center station, patronage is increasing with the APT with its convenient transfer to DART. The trains are manually controlled and operate "on-demand"
Click on any image to enlarge: