Salt Lake City TRAX
By Mark Kavanagh
In 1999 I started to make regular trips to Pocatello, Idaho to provide field service work for a customer of my company. Okay, what does the small city of Pocatello have to do with traction?, absolutely nothing. Pocatello is a major railroad town with a huge Union Pacific hump yard (which is now severely curtailed). But, Pocatello never had a streetcar line. However, just 2 hours and 20 minutes south on I-15 lays Salt Lake City.
I was able to take 3 or 4 short day trips to Salt Lake. What does Salt Lake have you ask? Well the beautiful Lake of course, the Wasatch mountains, the hub of the Mormon Church (not that I am Mormon, but the Temple is beautiful), and Golden Spike National Park is not that far away. Salt Lake at one time did have streetcars. Then there was the great Bamberger Railroad that ran fast Interurban service throughout the Salt Lake basin. There are still remains of the traction heritage. I found streetlamps that obviously held up overhead wires throughout downtown. Then there is Trolley Square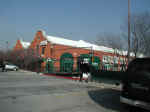 Trolley Square is a shopping center, housed in the old shops of the Salt Lake Streetcar system. Now you can shop at quaint little stores. There is an Old Spaghetti Factory and a Hard Rock Café. An old streetcar is in one corner of the parking lot, now a coffee shop. Back in 1996 there was a Bamberger "bullet" here as well, but that has since been moved elsewhere.
What does Salt Lake have today? Well, now traction has returned in the form of Light Rail. The system is called TRAX. It is run by the Utah Transit Authority. The first line opened in December 1999. It starts at Union Station/Delta Center (no Amtrak passengers though). It heads east a few blocks on Temple to Temple Square. It then turns south onto Main St, through the heart of the commercial district. After a few more turns it finds itself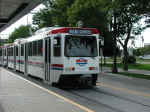 on private right-of-way for the high-speed run to southern suburb of Sandy.
At first residents were opposed to TRAX, saying nobody will ride it. However with Salt Lake being chosen for the Winter Olympics of 2002, there was need for better transport, and a show piece for the city. The North-South, or Sandy Line then opened. Guess what, you build it and they will come, and come indeed. Often times during rush hour they had all the cars in the fleet operating. They had no spare vehicles at the time. Rush hour train lengths were dependent on how the shop forces were able to get cars on the road. During the rush up to 3 car trains are operated.
At first there was no Sunday Service. Being a very Mormon area, there was little shopping open on Sunday, there were even very few bus lines that operated. TRAX later changed that. In December 2001 UTA experimented with Sunday service. It was considered a success. Now trains and busses operate 7 days a week. Downtown Salt Lake is more vibrant then ever and 7 days a week it is open!
Did Salt Lake stop here? No, more lines were being demanded by the former naysayers. An East-West line had already been proposed. There was a big push to build this line before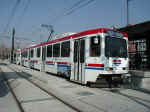 the Olympics. This line would use the current downtown portion of the Sandy Line, but then branch off at University and head east towards the University of Utah up on the hill ending at Rice-Eccles Stadium. This line was built very quickly and under budget!
The 2002 Olympics would be the ultimate test for this new system. However there was a car shortage. With the opening of the University line, new cars had been ordered from Siemens. The cars would provide additional capacity to the Sandy Line as well as support the University Line. But, with Olympic sized crowds (no pun intended) expected, this would not be enough. It was an absurd idea to order more cars just for a 2 week event.
Enter the city of Dallas, Texas. They too, have a very successful and rapid expanding light rail system. They had on order more cars from Kinki-Sharyo to support route expansion for mid-2002. The cars would be ready well before the new extensions were to open. Why not send several cars up to SLC to help with the Olympics??
In the end Dallas sent 29 light rail cars to supplement the 33 TRAX cars for the big games. Of course the two fleets could not intermix. TRAX cars ran 4 car trains during the games, the longer Dallas cars ran in 3 car trains. It is probably the first time that a city has borrowed light rail cars from another city (especially new cars) for such event.
Today TRAX is made up of the original 17.3 mile Sandy line plus the 2.3 mile extension for the University line. A 1.5 mile extension to the University line is under construction to reach the University of Utah Health Sciences Center. That should be opening in 2004.
What is next? UTA continues to purchase rail right-of-ways for future Light Rail or Commuter Rail. There is serious work towards opening a Commuter Line from Ogden to Salt Lake and South to Payson. There is also talk of extending the line west to reach the busy Salt Lake City International Airport.
Salt Lake is now a city to add to any traction fans list. Pocatello, well, let's just say that Salt Lake is not that far away...
MK 3/29/03